Share Your Discount<br>Earn 25%<sup>*</sup>

Share Your Discount
Earn 25%*
<h1><strong>For Affiliates</strong></h1><h4>Not an Affiliate? Get Details on MyShop for <a href="/corp/page/43/myshoppc">Preferred Customers</a>.</h4>
For AffiliatesNot an Affiliate? Get Details on MyShop for Preferred Customers.

On your MyShop site, your customers can purchase their favourite products, and we'll fulfil and ship their orders.

Earn a 25% commission on each customer's purchase—paid to you the very next day!*
Share your discount
Manage MyShop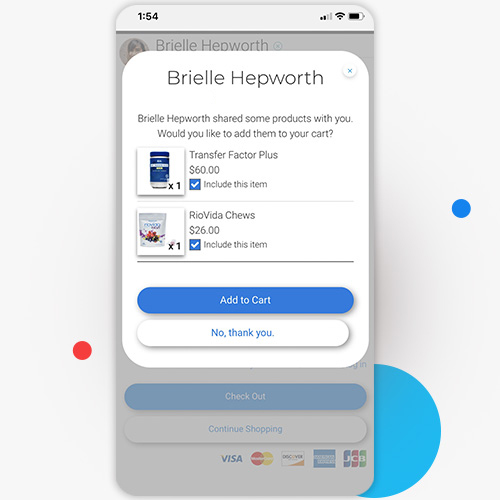 Custom carts
Have a few product suggestions in mind? We make sharing easy! Create a custom shopping cart with product recommendations, and share it with your customers. All that's left for them to do is checkout! Only available in the 4Life app.
Other Programs
Other Programs

Join the 4Life Loyalty Program to get your favourite 4Life products sent to you every month. Maintain a qualifying order and you'll also receive a free bonus product every month, as well as product credits that you can redeem for free products of your choice!

Rapid Rewards is a program designed to reward you fast. Eligible recipients earn commissions on the product purchases of new Preferred Customers they personally sign up, as well as purchases from customers in their downline. And the best part? Rapid Rewards are paid out to your 4Life account the very next day!
*An Affiliate must have qualified with 100 PV in the current month to be eligible for MyShop commissions.
**Free shipping is only applicable to orders placed in the U.S. or U.S. territories of $100 or more.
†All customizable MyShop settings are subject to review by 4Life.
***Next-day pay may not be available in all markets.