Let the history and culture inspire you 25-28 May 2023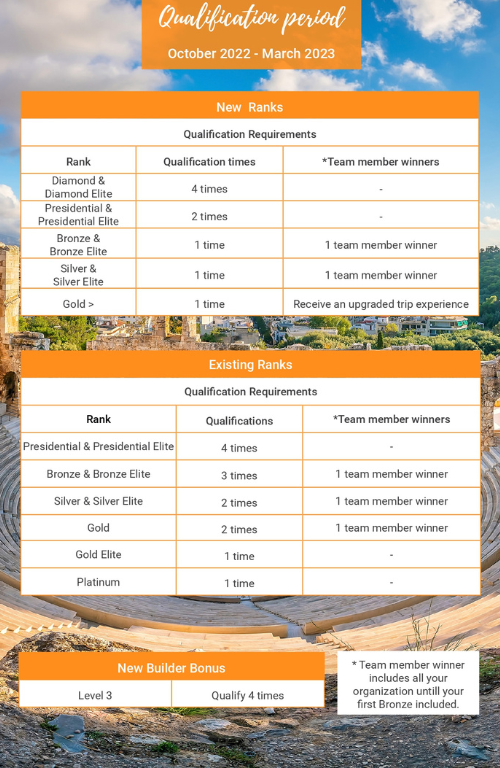 Terms & Conditions
1. The duration of this trip is 4 days and 3 nights.
2. New rank qualifiers are those who reach the rank for the first time during the qualification period of October 2022 until March 2023.
3. The incentive trip is for ID owner and a companion (co-applicant or partner).
4. The prize cannot be modified, transferred or exchanged in cash. Unless the company decides otherwise.
5. The incentive is only for Affiliates with European ID code.
6. Within 10 days after the Affiliates win the trip, they must confirm and accept their participation, fulfil the form (winner and a companion) along with the copies of ID cards. If you don't confirm your participation within 10 days, you'll lose the trip. Unless they are probable reasons due to Force Majeure that prevent winners from enjoying the trip, once the flight tickets have been issued, the cancellation costs shall be deducted from affiliates's account.
7. Team member winner criteria includes all your organizarion untill the next Bronce in your downline.
8. New Builder Bonus level 3 must but archived for the firts time during the incentive period.
9. All-inclusive stay consists of full board and accommodation (breakfast, lunch and dinner) and excludes anything additional, ie. minibar, room service, extra hotel services, extra activities that are not organised by 4life, etc. shall be at the expense of the person in whose name the room is booked. This incentive does not include transportation to and from the departure points designated by 4Life.
10. Winners must maintain and comply with good ethical and commercial
practices, in accordance with the applicable standards and procedures in place in each market.
11. The Leadership Trip award is considered a payment in kind, you will therefore receive an invoice for tax purposes (only for Spain, Germany and Italy).
12. 4Life advises travelers to read and understand the guidelines required for entering and exiting other countries. The additional travel requirements related to COVID will be the sole responsibility of the traveler. Please schedule, pay for, and successfully execute proper testing/documentation prior to departure. 4Life will assist with communication in the changing guidelines and requirements, but the responsibility to follow COVID protocols will be up to each traveler.
13. Once 4Life has purchased airfare, 4Life considers the trip redeemed. There will be no cancellation or deferment of the trip after this timeframe. If you are unable to attend for any reason, the trip will be considered forfeited. The trips are non-transferrable.